What Are Air Source Heat Pumps?
An air source heat pump (ASHP) works by transferring heat absorbed from the air outside to an indoor location.
ASHP's deliver heat through a wet central heating system, transferring the heat through radiators and underfloor heating and providing domestic hot water via a cylinder. As a comparison, heat pumps work in a similar way to that of a refrigerator, in that they absorb the heat and transfer it to another medium.
As with many heating systems, before making the final decision it is advised to consider all the advantages and disadvantages when looking at air source heat pumps.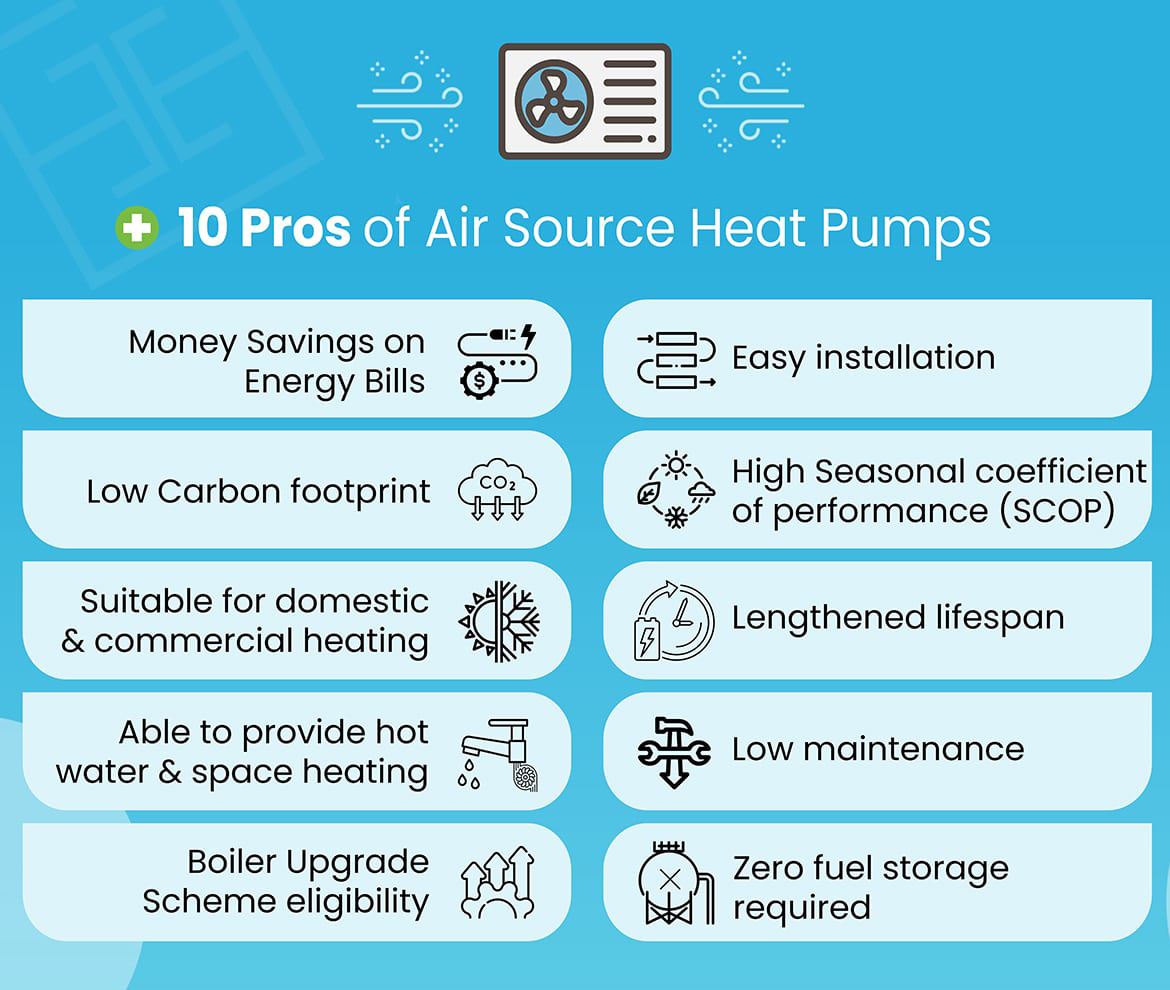 All ASHP heating systems are highly efficient and are now being proposed as an addition in the UKs green energy transition within the UK government. Widespread heat pump adoption would achieve more affordable energy that is both low carbon and more renewable.
The UK government aims to install 19 million heat pumps in new build properties, in order to achieve Net Zero by 2050.
To make this renewable energy source even cheaper to run and to reduce air source heat pump costs. the UK government is offering heat pump grants.
In a recent special report, the International Energy Agency stresses that if Net Zero is to be achieved by 2050 then no new gas boilers should be sold after 2025.
Heat pumps are clearly the way forward as they provide a far better, low-carbon alternative to heating homes in the foreseeable future.
When considering ASHP for your home, it is wise to consult with a professional air source heat pump installer who can advise on all the pros and cons of installing this in your home. Here at Global Energy Systems, we have the expertise to help with this.
Click the link below, fill in the form, and we can send you a free initial feasibility report including estimated carbon savings, capital cost and running costs.
It's free, with no obligation.
Switching To An Air Source Heat Pump?
When changing your heating system, it is very important that you choose the best installer to install the Air Source Heat Pump to ensure it runs efficiently to meet your families' requirements, whilst taking into account the overall cost involved with a change of this kind to your home.
Here at Global Energy Systems, we manufacture Air Source Heat Pumps and have a reliable network of installers across the UK. Our company has over 50 years of international engineering experience across three family generations, each developing and progressing with their innovative expertise in this field.
Top Advantages of Air Source Heat Pumps
There is an abundance of benefits to using heat pumps. In the current economic crisis, top of the list is that you can save money on your energy bills and compared to a gas or electric heating system, you can greatly reduce your carbon footprint. An ASHP can be used for heating indoor spaces and/or heating water.
1. Low Carbon footprint

As outside air is used to heat the home, air source heat pumps are a good form of low carbon heating. If switching from a coal or electricity-based heating system, the carbon emissions will be greatly reduced. With an air source heat pump, typically only 1 unit of electricity is used for every 3-4 units of energy produced.

2. Energy Saving Bills

You can reduce your energy bills significantly by switching to an air source heat pump system, particularly if moving from an electric or coal-based system. Admittedly the upfront cost can be high, but you could be eligible to receive £5,000 from a UK government Boiler Upgrade Scheme.

*The running costs of heat pumps depends on the efficiency within the space being heated, the temperature of the heat source and the amount of heat required to heat the space.

3. UK Boiler Upgrade Scheme

The UK Boiler Upgrade Scheme is offering £5,000 towards the upfront costs of an air source heat pump. All successful applicants would receive a redeemable voucher which would need to be used with three months of receipt, whereby the pump would be installed during this period.

In April 2022, the government launched a £3.9 billion initiative as part of the Heat and Buildings Strategy. This scheme will run until April 2025.

The scheme has been set up to encourage a higher uptake of low carbon heating technologies across homes in England and Wales. Funds are granted towards the costs of installing ground source heat pumps, air source heat pumps, and biomass boilers, all of which are far more environmentally friendly than natural gas boilers.

For further information on the grants available, check out this article on heat pump grants in the UK.

4. Heating Systems

A great benefit of air source heat pumps is that it can be used for both heating indoor spaces and for heating water. .

ASHP is also a great source for under floor heating or radiators, which is strongly recommended when installing a new air source heat pump system.

5. Space Heating and Hot Water

Some air source heat pumps are also able to heat your water. This is dependent on the flow temperature (temperature of the water in the heating system). In order to heat the water, it is recommended to run the flow temperature as low as possible to increase efficiency.

If requiring both space and water heating, ensure that the ASHP has a flow temperature of 55°C.

6. Seasonal Coefficient of Performance (SCOP) is High

Thanks to an outstanding SCOP (seasonal coefficient of performance) air source heat pumps are efficient through the winter and the summer months. The SCOP of a heat pump measures its efficiency by comparing the amount of heat output to the power input needed to produce heat.

When the outside temperature is above 7°C, a typical air source heat pump will run at SCOP 3.2, meaning the heat pump is 320% efficient (for every kWh of electricity used by fans and the compressor means 3.2kWh of heat is generated). In short, the higher the SCOP, the better.

With this in mind, air source heat pumps are found to run efficiently all year-round, allowing for a few slight fluctuations.

7. Easy Installation Process

The installation of an air source heat pump can take a mere two days and is much easier than installing a ground source heat pump. Air source heat pumps for the home do not typically require any planning permission, although it is advisable to double check with the local authority before installation. It's a perfect option for new builds and retrofits.

If air source heat pump installation is being considered alongside other building work, this can bring down the total cost of the installation.

8. Low Maintenance

Servicing and maintenance should be done by a technician once a year. As such air source heat pumps are low maintenance, but there are a few things that you can do to ensure optimal performance of your heat pump, from cleaning filters, to checking for system leaks, checking refrigerant levels, clearing leaves and dust from your heat pump, and so on. Any more technical tasks should only be done by a certified installer.

9. Long Lifespan


Air source heat pumps have a long lifespan, and with proper maintenance, in some circumstances it may be possible for a heat pump to still be operational in 20 years. What's more, is that most air source heat pumps have 3 year warranties.

10. No Fuel Storage Needed

No fuel storage is needed with air source heat pumps, because the fuel used is the outside air. With oil-fired boilers, for example, you need to store the oil somewhere, which would take up extra space on your property. Not relying on fuel, such as oil or wood pellets, also means you won't have to pay additional fees for fuel deliveries.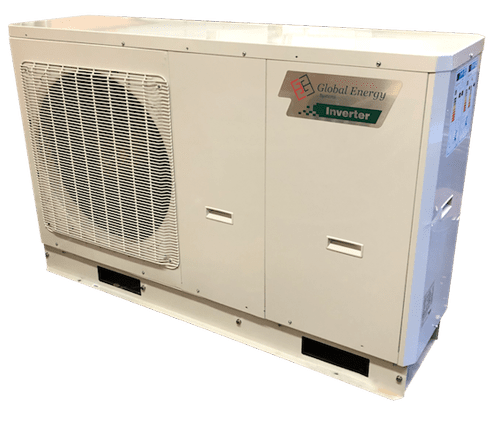 All You Need to Know Before Installing an ASHP
If you are considering installing an air source heat pump, then there are three main factors that must be adhered to:
Costs: The average cost for installing an air source heat pump is £8,000 – £18,000. In addition to the basic cost, there may also be others incurred depending on the chosen system type, the size of your property, and your individual specific requirements. As a comparison the ground source heat pump prices range from £14,500 – £45,000.
Insulation: It is very important to have a well-insulated home, particularly with regards to loft insulation. If insulation is at its maximum, then the heat generated within the home is unable to escape, meaning your home will be consistently warm during the winter months.
Installer: Sourcing the right installer, with all the necessary accreditations is very important when ensuring that the heat pump is installed correctly. Remember to check any reviews and that they are highly recommended and offering a fair price.
If an air source heat pump sounds like the heating system for you and you are considering buying one, contact us for further information.
Related Articles
How can you save money with an Air Source Heat Pump – https://globalenergysystems.co.uk/blog/can-you-save-money-with-an-air-source-heat-pump/