Not all heat pumps are created equal.
Many heat pumps start life as air conditioning units designed to work in the summer months. Many are also designed for office buildings where noise is not an issue. Many are designed to rely on expensive to run, electric immersion heaters on a day to day basis.
Global Energy Systems' Eco Air Boilers are not designed that way.
Here are few of the differences: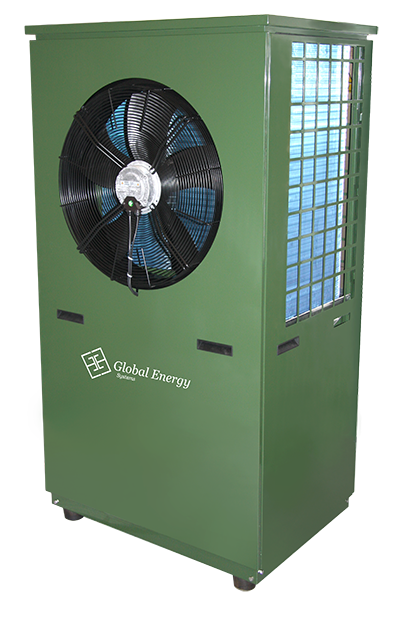 Designed for the UK climate down to -20°C
Simultaneous hot water and heating
Produces domestic hot water at up to 65°C
Coefficient of Performance of 3.0 at -7°C
High mounted evaporator to prevent cold air recirculation
All electronic components in sealed enclosures
Data link for real time monitoring
Personal energy portal with bills and usage
Integrated, complete system from one source
Remote internet control function
Designed to work with radiators
Unique performance optimisation service
Ideal for existing heating systems
SAP Appendix Q listed for building regulations
MCS accredited for grants and subsidies
British designed and built
Ideal for use with solar PV for free heating
Designed by Global Energy Systems from the outset as a dedicated heat pump, to provide a complete central heating and domestic hot water system, in the UK and for UK, the Eco Air Boiler is a robust, 365 day a year high performance air source heat pump. The compressor, evaporator, heat exchanger and even the refrigerant are engineered to offer year round performance in a UK climate.
Designed for domestic and commercial use the Eco Air Boiler can integrate in to most environments. Our engineering solutions to sound suppression, fan design and cabinet construction combine to offer a heat pump that is designed for an urban, domestic setting which even allows location under a bedroom window.
The Eco Link allows you access to an energy portal for your heat pump. The information is gathered through an independent data connection that allows Global Energy Systems to monitor and optimise your heat pump, and running data to be gathered to show you your heating bills. In removing or displacing a fuel that has an identifiable bill you can lose sight of your energy costs. The Eco Link portal not only gives you full details of your costs and savings but allows you, probably for the first time to see the daily impact of your heating use.
As an MCS accredited manufacturer and installer of our own heat pumps, Global Energy Systems can provide a full assessment, specification and installation service, ensuring that your renewable energy solution is tailored to your needs.
For more information or to arrange a free survey of your property, please contact us through the link above or on 033 33 44 44 14